Nail treatments
The treatments we offer in our salon for nails vary from a file and polish to a full set of acrylic/gel extensions. We offer express or luxury manicures and pedicures, Acrylic and gel extensions, overlays and strengthening treatments for weak or brittle nails. We will be offering gel polish from 1st November.
Please call us for more details on 0114 3992333.
Extensions and overlays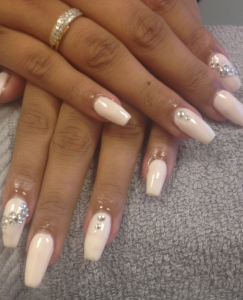 The application of acrylic nails does involve chemicals and fumes so pregnant women are advised to avoid this treatment.

The life of nail extensions varies greatly from person to person and is dependent upon numerous factors. For example, an individual who carries out manual labour or is required to use their hands constantly in their job will probably find that their nails do not last as long as someone who has an office based typing role which does not subject the nails to much stress or trauma.

However, generally speaking we recommend that you have your extensions either touched up with infills or removed every three to four weeks.

Having nail extensions or overlays can sometimes result in damage to the nail bed, as the natural nail is unable to breathe beneath the extension. When extensions are removed the nail beneath can sometimes be weak or brittle. Good technicians will know how to prevent, repair or strengthen weak, brittle or broken nails and will also be able to give you professional aftercare advice.
Gel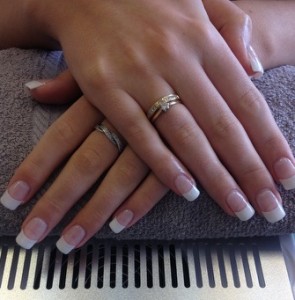 Gel is a special mixture that is applied either on top of an artificial nail extension, or directly onto the natural nail bed to strengthen the nail and promote natural growth. The gel is usually applied in very fine layers, with your nail technician 'curing' or 'sealing' the gel with a UV light between each layer so that the finished result is hard but still flexible with a natural looking glossy finish which is both instantly dry and chip resistant.

Whilst gel can be applied on top of an artificial extension to add length, they are particularly good for individuals who have very short, weak or bitten nails because they allow the nail to strengthen and grow below the layer of gel.

Acrylic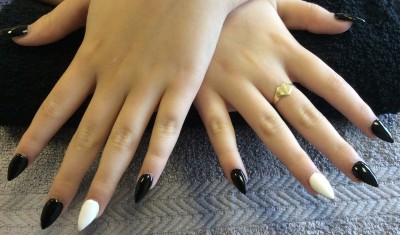 Acrylics consist of a mixture of liquid monomer and a powder polymer, which when combined form a hard protective layer that is sculpted over the natural nail and becomes hard when exposed to air.

The procedure is a multi-step process that usually involves preparing the natural nail by cleaning, shaping, buffing and cuticle work, before then applying artificial tips to add length (if required) and the acrylic on top.

Acrylic nails are very strong and durable, can last a long time and are great for adding length to short nails.

Manicures & Pedicures
Manicure is the care of the hands and Pedicure is the care of the feet.

During an express manicure or Pedicure your nails are trimmed (if desired), soaked in warm anti-bacterial/soapy water and filed/shaped. The cuticles are softened, pushed back, and possibly removed where overgrown. Dirt is cleaned out from under the free edge (the part that hangs over and extends beyond your fingers/toes). Your nails are painted with a base coat, two coats of desired colour, and a top coat.

Manicures and Pedicures have many benefits other than the beauty factor. They can help with circulation or muscle aches in the arms, legs, wrists, ankles, hands, feet, fingers and toes.

During a luxury Manicure or Pedicure you will receive all the above plus, exfoliation of the hands and arms or feet and lower legs, a hydrating, cooling or restoring mask will be placed on the hands or feet and left to work for 5-10 minutes. You will then receive a relaxing massage on the hands and arms or feet and lower legs. Moisturiser is applied to the area and suitable aftercare/home care advice will be given.