Botox®
Botox® is an injectable treatment to soften frown lines and smile lines.

This injectable treatment, known as Botox® (Botulinum toxin type A) helps to temporarily improve the appearance of moderate to severe lines between the eyebrows (frown lines) and at the side of the eyes (crows feet).
What is the injectable treatment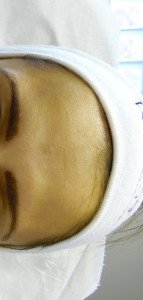 post treatment
Botulinum toxin type A is a chemical produced by the botulinum bacterial. Botox® is a protein derivative of the toxin, which when injected into a muscle, causes it to become weakened or deactivated. Botox® has been used as a treatment for patients since 1978 and is now used in over 66 countries around the world.
Indications:-
Softening of frown lines and forehead lines
Reduction of crows feet and squint lines
Facial enhancement
A Consultation will be required prior to any aesthetics treatment and a follow up may also be necessary 2 weeks post treatment, both the consultation and follow up appointment are free of charge.

Please note a deposit of £50 will be taken at consultation, if you decide to proceed with the treatment.

Your practitioner will discuss your requirements and expectations as well as making a note of your medical history.

Photographs of the treatment area will be taken before and after the treatment:
- Before photo taken at consultation
- After photo taken at your follow up appointment.
You will need to sign an agreement for this visual record. All photographs are confidential and will only be seen by you and your practitioner, (unless you agree for them to be used BY OUR CLINIC ONLY for advertisement purposes).

Your follow up appointment will be scheduled for 2 weeks post treatment. This gives you and your practitioner the opportunity to discuss the results of your treatment, and the option of a 'top up'. the decision to administrate a 'top up' lays solely with the practitioner.

'Botox®' will last approximately 12 weeks, however this depends on the individual.